In the past two years, I've learned a great deal about the practice of stock market investing. Below is an investment framework that I've distilled down to from giants such as Warren Buffett, Chuck Royce, John Templeton, Bill Miller, Francis Chou, Peter Cundill and Tom Stanley.

But first, before getting ahead of ourselves, let's make sure we are clear on the definition of an investment. Ben Graham defines it as follows:
Definition
An investment operation is one which, upon thorough analysis, promises safety of principal and an adequate return. Operations not meeting these requirements are speculative.

Now, here is the chicken soup recipe for the ultimate investor:
Philosophy
Must thoroughly analyze a company, and the soundness of its underlying businesses

Must deliberately protect against serious losses

Must aspire to adequate, not extraordinary, performance

Be a Long Term Investor

Have a Flexible Approach

Actively Look for Ideas

Only buy the best ideas

Be Skeptical

Filter out the noise

Stay humble

Invest differently from the crowd (be a contrarian)

Be fearful when others are greedy. Be greedy when others are fearful.

Understand the intrinsic value of a business

Seek valuation discrepancies, not just statistically inexpensive stocks

Set buy and sell target for all positions

Always follow where reason leads rather than fall victim to passion and emotions

Always keep the diagram below in mind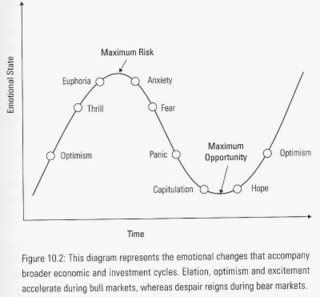 ... and below are the buy/sell criteria I set for myself when it comes time to make a buy/sell decision:
Buy Criteria
Odds are stacked up in my favour

The business is understandable

The company has good corporate governance (i.e. not run by crooks)

People are overly pessimistic (i.e. hardly any bullish analyst)

There is a margin of safety

Catalysts exist
Sell Criteria
The original thesis to purchase the stock is wrong

The stock price has reached my target

People are overly optimistic

The portfolio requires rebalancing

A better opportunity exists elsewhere
Finally, all of my investments fall into one or more of these categories:
Categories
Cash cow

Cyclicals

: Success here usually involves correctly anticipating when a cyclical industry will rebound, though precision is not necessary as long as the company has a strong enough balance sheet to weather the tough times.

Distressed industry

Events-related

GARP (Growth At a Reasonable Price)

Great Business on Discount

High Growth

M&A (Mergers and Acquisitions)

Net-net

Short (use of puts options, not actual short-selling)

Spinoff

Turnaround & Restructure

Workout

: Workout investment is one in which a financially strong security is priced below a conservative estimate of a realistic value, and the investor has reason to believe that an asset-conversion event might take place within a given time span. The asset-conversion event could be a merger or an acquisition, the sale of assets, a liquidation, a reorganization, a contest for control or a share-repurchase program.
I hope you will find the above investment recipe useful in your own ventures.